Introducing Co-Listing Support! In the past, you had to create a separate account to support the display of two agents and their contact info, which was time consuming and laborious. Now you can easily add another agent to a listing just by typing in their name or manually adding their contact info. This is done on a listing by listing basis, making it a lot easier and faster to add a co-listing agent. Once you add a co-list agent they will show up on the tour as well as on one of the co-listing flyers that we have added.
Click here to see an example...
There are two points where you can add a co-listing agent to an account:

Creating a New Tour
1. The first is during the process of creating a new tour. When you reach the Customize Tour step you are able to add a co-listing agent to the listing, just by searching for an agent already in our system, or manually add them.

Managing Tours
2. The second is adding it to an already existing tour under the Manage Tours tab of your FloorPlan Online account. Click on the edit details link next to the Listing ID. You can then add/edit the co-listing information there.


As mentioned above, there are two ways to add an agent. Select from an already existing agent or manually add one, as you see below.
1. Choose from an Already Existing Agent


2. Manually Add an Agent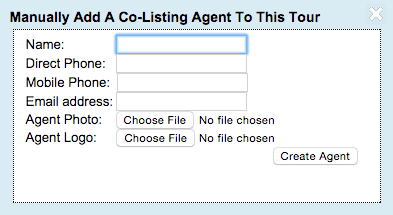 We have added 3 flyer templates that include the colist agents and the great photo and floor plan content we create too. We hope you enjoy this long anticipated enhancement! It has actually been on our list of things to develop for many years, so we are glad to put our manual work around to bed!